Bathtub Refinishing Company
A NEW LOOK FOR YOUR OLD TUB, GUARANTEED!
CALL FOR EMERGENCY SERVICE.
If your bathtub is showing the signs of excessive wear – we can come and rescue your bathtub by offering bathtub refinishing.
Bathtub reglazing is another process of restoring an old crusty bathtub. When your bathtub gets discoloured and
Whether the bathtub is a regular bathtub or it's a fiberglass tub, we are epscialized in all types and shapes of fiberglass tub repairs.
It is a process of restoring the surface of existing tiles to give them a fresh new look. We offer tile refinishing services in your kitchen, bathroom or any room.
Our bathtub repair team specializes in the restoration of old and unfinished bathtubs. An expected life of a bathtub is around 5 to 7 years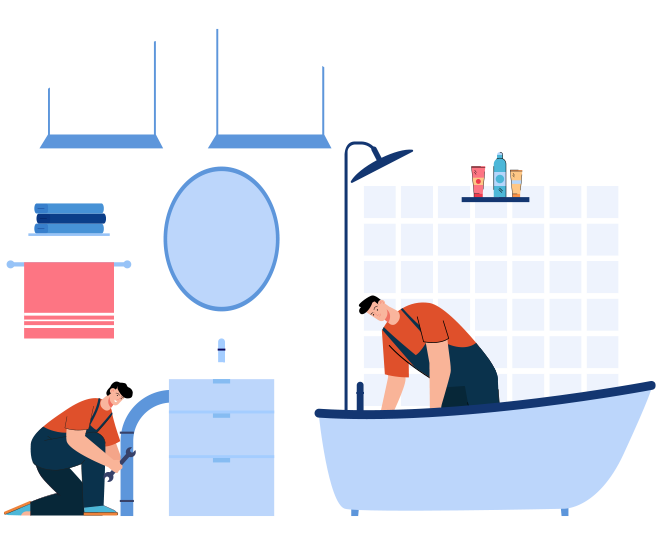 Top glazing​ Refinishing ⚡️
We have been serving Toronto and the GTA since 1997. Helped over 4500 clients so far. Our experience and professionalism makes us one of the most popular bathtub refinishing company in Toronto and the GTA. Whether it's a fiber glass bathtub or a regular bathtub with discoloration – we can help you make you bathtub looks and feel just like a fresh brand-new bathtub.
We help our clients getting that experience of being in a brand-new home soon as they step in their bathtub. Getting your bathtub refinished does not only save you thousands of dollars on buying and installation of a new bathtub, it also helps you get a better appraisal value of your home when you are looking to sell it.
Anti-Slip No-Slip Bathtub Refinishing
Explore Our
Services & Solutions
We are #1 bathtub refinishing
company in toronto and the gta
With over 9500 bathtubs refinished since 1997 – We can proudly say that our experience and professionalism is unbeatable. All bathtub refinishing comes with 5 years of warranty.
Get a free instant
estimates
That is right! Give us a call today at (905) 920 3035 and get a free estimate. Best price with highest quality is promised.
Bathtub
Refinishing
Process 🛁
Frequently Asked Questions
All Over The Greater Toronto Area
Quality Service: At Top Glazing Bathtub Refinishing Services, we are committed to providing the highest quality refinishing service to our clients in the GTA and Toronto area. 

Competitive Pricing that is affordable for everyone. We provide upfront quotes so you can make an informed decision without any hidden costs.

Exceptional Customer Service: Our customers are our top priority, and we strive to provide exceptional customer service at all times. 

Efficient Turnaround Time: We understand that you have a busy schedule, and that's why we provide quick turnaround times for our refinishing services. 

Environmentally-Friendly: . We use eco-friendly products that are safe for you and your family.

Warranty: We stand behind our work and offer a warranty for our refinishing services. If you experience any issues after the refinishing process, we will fix it at no additional cost